Increase your Spanish vocabulary and master your grammar lessons with our ever-growing collection of Spanish vocabulary and grammar-themed lists for every CEFR level from A0 to C1! To find out your current Spanish level, consider taking our free Spanish level test.
Access more than 200 Spanish vocabulary and grammar lists, with not just English translations, but also with audio files to help you perfect your pronunciation.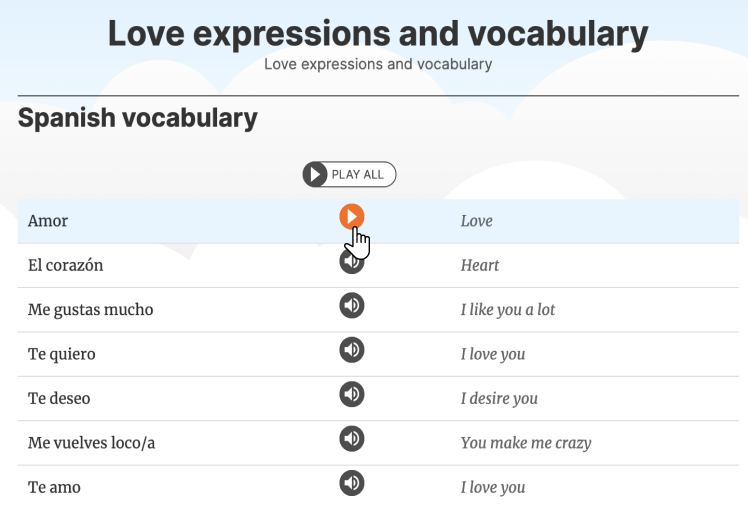 Between synonyms, jargon, neologisms and idiomatic expressions, learning all the vocabulary you need can seem overwhelming. But our Spanish vocabulary and grammar lists are a great way to increase the number of words you know.
Complement your Spanish vocabulary and grammar practice with our reading, writing and listening exercises to really help you learn about the context and nuances that native Spanish-speakers use.

Grammar and Vocab themes by level
---
A0: Entry Level

Spanish colour names
A basic list of colours in Spanish including masculine and feminine form
Nuclear family in Spanish
A list of the immediate family members in Spanish
Months in Spanish
Learn about the months of the year in Spanish
Numbers from 11 to 31 in Spanish
A list of numbers in Spanish
Days of the week vocabulary in Spanish
The names of the days of the week and some related terms in Spanish. Remember days of the week are not capitalized in Spanish.
The alphabet in Spanish
An A0 level list with the letters of the Spanish alphabet

A1: Beginner

Relatives and extended family in Spanish
An essential list about family members
"At the doctor" vocabulary in Spanish
Useful Spanish words to use at the doctor's to describe how you hurt yourself
"Greeting and introducing yourself" vocabulary in Spanish
Spanish words about greetings and introducing yourself
List of numbers by tens in Spanish (1 to 100)
Numbers by tens: 10, 20, 30...
Bedroom vocabulary in Spanish
Spanish words to describe your bedroom.
Weather vocabulary in Spanish
A list of useful weather words in Spanish in El Presente
Animals names in Spanish
A basic list of male and female animals in Spanish
A1 Spanish verb list: Stem-changing verbs: present tense (o > ue)
A list of Spanish verbs (beginner) that have a stem change (o > ue) in El Presente
List of Spanish irregular gerunds/present participles of the form -yendo
A list of irregular gerund/present participle forms in Spanish that have the form -yendo
List of Spanish irregular gerunds/present participles of the form -iendo
A list of Spanish irregular gerunds/present participles that have the form -iendo
A1 Spanish verb list: Stem-changing (e > i) verbs in the present tense
A list of Spanish verbs (beginner) that undergo a stem change (e > i) in El Presente
A1 Spanish verb list: Stem-changing (e > ie) verbs in the present tense
A list of Spanish verbs (beginner) that undergo a stem change (e > ie) for some forms in El Presente
List of Spanish regular -ar verbs in the present tense
A list of Spanish regular -ar verbs in El Presente
List of Spanish regular -ir verbs in the present tense
A list of Spanish regular -ir verbs in El Presente
List of Spanish regular -er verbs in the present tense
A list of Spanish regular -er verbs in El Presente
List of Spanish regular -ar verbs
A list of Spanish regular -ar verbs
Regular -er verbs in Spanish
A list of some common regular -er verbs in Spanish
List of Spanish regular -ir verbs
A list of Spanish regular -ir verbs
Most common Irregular verbs in Spanish
An A1 list of Spanish irregular verbs
"Essential verbs" in Spanish
A list of the top most common Spanish verbs you'll want to learn
List of Spanish -ger/-gir stem-changing verbs (g > j)
A list of Spanish -ger/-gir stem-changing verbs (g > j)
Invariable adjectives ending in -e and -a in Spanish
A list of common adjectives in Spanish that have same ending in masculine and feminine singular
Household chores vocabulary in Spanish
A list of useful words about household chores in Spanish.
Spanish prepositions
A comprehensive list of Spanish prepositions
List of numbers from 1 to 50 in Spanish
A list of numbers in Spanish from 1 to 50
Subject pronouns in Spanish
A comprehensive list of Spanish subject pronouns
Nationalities in Spanish
An selection of nationalities in Spanish
"Daily routine" verbs in Spanish
A list of useful Spanish verbs to describe your everyday life.
Professions in Spanish
A basic list of common professions in Spanish
"Shopping clothes" vocabulary in Spanish
A helpful list of words and expressions for shopping for clothes items in Spanish
Transportation vocabulary in Spanish
An essential list of means of transportation in Spanish
"Beach" vocabulary in Spanish
A list of useful Spanish words to go to the beach
"Giving my personal details" vocabulary in Spanish
A list of words to help you to give your personal details in Spanish
Games and sports used with the verb "jugar" in Spanish
A basic list of games and sports used with the verb "to play" in Spanish
Typical food & drink from Spain in Spanish
An essential list of typical Spanish food and drink items
Fault vocabulary in Spanish
A list of useful words related to faults
"Day of the Dead" vocabulary in Spanish
A list with useful words related to this Latin-American festivity.
Types of stores and shops in Spanish
A useful list of names of shops and stores in Spanish
Spanish yo-go verbs
An essential list of Spanish irregular verbs that have "-go" endings in the "yo" form in the present tense
Basic sea vocabulary in Spanish
List of useful Spanish words related to the sea

A2: Lower Intermediate

Birthday vocabulary in Spanish
Useful words to attend to a birthday party in a Spanish speaking country
How to ask for directions in Spanish
A list of useful Spanish vocabulary about how to find one's bearings.
"Going shopping" vocabulary in Spanish
An essential list of words and expressions to go shopping in Spanish
"Body parts" vocabulary in Spanish
A useful list of vocabulary related to body parts in Spanish.
"Bathroom" vocabulary in Spanish
Useful Spanish words to describe a bathroom
Irregular past participles in Spanish
An A2 list of the most used past participles in Spanish
List of Spanish irregular -ducir verbs
A list of Spanish irregular verbs ending in -ducir that conjugate the same way
List of Spanish irregular -uir verbs (i > y) in the present and past tenses
A list of Spanish irregular -uir verbs which have a vowel change (i > y) in El Presente and El Pretérito Indefinido
List of Spanish verb decir and its derivatives
A list of Spanish verb decir and its derivatives
List of Spanish verb poner and its derivatives
A list of Spanish verb poner and its derivatives
List of Spanish -car verbs that change c > qu in the yo form in the preterite
A list of Spanish -car verbs that change c > qu in El Pretérito Indefinido for the yo form.
List of Spanish -zar verbs that change z>c in the preterite for the yo form
A list of Spanish -zar verbs with a z>c stem change in El Pretérito for the yo form
-gar Spanish verbs that change g > gu in the yo form in El Pretérito Indefinido
-gar verbs change g > gu in El Pretérito Indefinido for the the yo form
A2 Spanish verb list: Stem-changing verbs - present tense (o > ue)
A list of Spanish verbs (lower intermediate) with a stem change (o > ue) in El Presente [+ jugar (u > ue)]
Spanish verbs deviated from "tener"
An essential list of verbs derivatives of the verb "to have" in Spanish.
Reverse verbs like "gustar" in Spanish
A useful list of verbs that operate backwards like "gustar"
List of Spanish irregular verbs with a short imperative tú form
A list of Spanish irregular verbs with short imperatives in the tú form
List of Spanish regular -ar verbs and past participles (-ado)
A list of Spanish regular verbs and past participles (-ado)
List of Spanish regular -er/-ir verbs and past participles (-ido)
A list of Spanish regular -er/-ir verbs and past participles
Ordinal adjectives from 1st to 20th in Spanish
A list of adjectives to express the place of a noun in an ordered group
Spanish time phrases
A comprehensive list of words of frequency in Spanish
Spanish adverbs of "tiempo"
An essential list of adverbs of time in Spanish
Numbers from 100 to 5000 in Spanish
A list of numbers in Spanish
Spanish coordinating conjunctions
A useful list of Spanish conjunctions to join words or clauses of the same rank.
Spanish adverbs of "lugar"
An essential list of adverbs of place in Spanish
Spanish adverbs of "cantidad"
An essential list of adverbs of quantity in Spanish
Time markers used with El Imperfecto in Spanish
A useful list of time markers used with Imperfect
Time markers used with El Pretérito Indefinido in Spanish
A useful list of time markers used with the Spanish Simple Past
Tapas and drinks vocabulary in Spanish
Tapas y bebidas
Question words in Spanish
An essential list of interrogative words in Spanish
Spanish expressions followed by El indicativo
A list of common Spanish expressions followed by the indicative mood
Spanish adverbs of "modo"
An essential list of adverbs of manner in Spanish
Halloween vocabulary in Spanish
A list of useful words related to Halloween in Spanish.
Spanish words related to "El Día de Todos los Santos" and "El Día de los Difuntos" .
A list of vocabulary related to 1st and 2nd of November celebrations in Spanish-speaking countries.
"Christmas" vocabulary in Spanish
All the Spanish Holiday words you need for a "Feliz Navidad"
Personal "a" verbs in Spanish
A list of common verbs that need the preposition "a" when the direct object is a person
Nouns ending in -a that are masculine
These nouns end in -a and are masculine
Spanish adverbs of "negación"
An essential list of adverbs of negation in Spanish
Different types of coffee in Spanish
A list of different types of coffee in Spanish that you can order in Spain and Latin America
Plumbing vocabulary in Spanish
A list of plumbing vocabulary
"At the chemist" vocabulary in Spanish
A list of useful vocabulary to use at the chemist's in Spanish.
Household chores vocabulary in Spanish
A list of useful words related to household chores.
Moods vocabulary in Spanish
A list of useful words with verb "estar" to talk about feelings
"Back-to-school" vocabulary in Spanish
A list of useful vocabulary for school in Spanish.
Marcadores del discurso
Connectors that order, enumerate, contrast, add ideas in a sentence
House rooms names in Spanish
Useful Spanish words about rooms in a house
How to make a mobile phone contract vocabulary in Spanish
A list of helpful words to make a mobile phone contract in Spanish.
Taking a flight vocabulary in Spanish
An essential list of words in Spanish to deal with air travel
Fruits and dried fruits names in Spanish
A list of essential vocabulary to talk about fruit in Spanish.
Genres of movies in Spanish
An essential list of words to learn how to talk about films in Spanish
Nuts names in Spanish
An essential list of nuts in Spanish
Musical instruments vocabulary in Spanish
An essential list of musical instruments names in Spanish
Vacation activities vocabulary in Spanish
A list of useful Spanish vocabulary about vacation activities to do when you are taking time off
Los Reyes Magos
Would you like to learn Spanish vocabulary for the celebration on 6th January and the Three Wise Men?
Nationalities in Spanish that end in -e
A comprehensive list of nationalities in Spanish ending in -e that are invariable
List of verbs of movement with prepositions in Spanish
A useful list of verbs in Spanish that indicate movement and their prepositions
Stationery supplies vocabulary in Spanish
Useful Spanish words for a stationery shop
Easter vocabulary in Spanish
A list of Easter words in Spanish
Coffee shop vocabulary in Spanish
A list of useful Spanish words and expressions when going to a cafe
Running vocabulary in Spanish
A list of useful words in the theme of running in Spanish
Table setting vocabulary in Spanish
A list of useful words related to table setting in Spanish
"Renting a car" vocabulary in Spanish
A useful list of words and phases to rent a car in Spanish
Essential subway vocabulary in Spanish
A list of useful Spanish words for traveling on the metro/subway/underground.
Tourist accommodation vocabulary in Spanish
List of different types of tourist accommodation in Spanish

B1: Intermediate

Spanish double past participles verbs
A basic list of the Spanish verbs that have two past participles
Spanish connectors to organise and add ideas
An advanced Spanish list of transition words to order or add thoughts
Spanish connectors to illustrate
An advanced Spanish list of transition words to expand, illustrate or explain ideas already introduced
Spanish connectors to contrast and compare
An advanced Spanish list of transition words when to compare and contrast different ideas
Spanish connectors to show a result
An advanced Spanish list of transition words to present the result of previously mentioned ideas
Spanish connectors to emphasise
An advanced Spanish list of transition words to stress ideas
Spanish connectors to summing up
An advanced Spanish list of transition words to summarise and conclude
List of Spanish irregular verbs in the future and conditional
A list of Spanish irregular verbs in El Futuro and El Condicional Simple
List of Spanish -car verbs that change c > qu in the present of subjunctive
A list of Spanish -car verbs that change c > qu in El Presente de Subjuntivo for all forms
-gar Spanish verbs in El Pretérito Indefinido
Spanish verbs that end in -gar change g to gu in the yo form in the Simple Past
B1 Spanish verb list: Stem-changing (e > ie) verbs in the present tense
A list of Spanish verbs (intermediate) with a stem change (e > ie) for some forms in El Presente
List of Spanish -zar verbs that change in all forms in the present of subjunctive
A list of Spanish -zar verbs that change in all forms in El Presente de Subjuntivo
"Haber" as impersonal verb in Spanish
A comprehensive list of "haber" conjugated in the informal form in all tenses in Spanish.
List of Spanish regular verbs in the future and conditional
A list of Spanish regular verbs in El Futuro and El Condicional Simple
Social media vocabulary in Spanish
A must know list of social media jargon in Spanis
Spanish expressions with "por"
A list of idioms using the preosition "por"
Love vocabulary in Spanish
An essential list of words and expressions about love and relationships
"Football' vocabulary in Spanish
A list of common words to understand a football match in Spanish
Spanish expressions followed by El Subjuntivo
A list of common Spanish expressions followed by the subjunctive mood
Accents practice and study list
Master Spanish accents with this studylist.Review the lessons and then kwiz the list as many times as you need to perfect them all!If you want to practise specific lessons, add them to your notebook and kwiz that instead.
Spanish expressions using "dar" + "a" +"El infinitivo"
An everyday list of Spanish expressions with the verb to give followed by prepositions and infinitive
Spanish adverbials of manner
A comprehensive list of adverbial expressions of manner in Spanish
Spanish adverbials of negation
A comprehensive list of adverbial expressions of negation in Spanish
Spanish adverbials of place
A comprehensive list of adverbial expressions of place in Spanish
Spanish adverbials of quantity
A comprehensive list of adverbial expressions of quantity in Spanish
Comparative adverbs in Spanish
A basic list of Spanish comparative adverbs
Spanish adverbs of "duda"
An essential list of adverbs of doubt in Spanish
Spanish adverbials of affirmation
A comprehensive list of adverbial expressions of affirmation in Spanish
Nouns ending in -z and their gender
Nouns ending in -z and their gender
Masculine words that end in -a in Spanish
A list of common words ending in -a that are masculine
"At the Police station" vocabulary in Spanish
A list of common Spanish words to use at the police station
"At the beauty saloon" vocabulary in Spanish
A list of common Spanish words to use at the beauty salon
El Ramadán
Useful list of Spanish vocabulary related to Ramadan
"At the barber" vocabulary in Spanish
A list of common Spanish words to use at the barber's
Expressions using the word "cierto"
Expressions using the word "cierto"
"At the bike shop" vocabulary in Spanish
A list of common Spanish words to use at a bike shop
Make-up and cosmetics vocabulary in Spanish
A list of useful make-up and cosmetics words in Spanish
Spanish verbs ending in -uar
Spanish verbs that end in-uar
-iar Spanish verbs that need a written accent in El Presente and El Presente de Subjuntivo
-iar Spanish verbs that require a written accent in the present and present subjunctive
Regular -iar Spanish verbs in the present
A list of common regular -iar verbs in the present tense in Spanish
"DIY" Spanish vocabulary in Spanish
A list of common Spanish words related to home improvements
Opening a bank account in Spanish
A list of useful vocabulary when opening a bank account
"At the dentist" vocabulary in Spanish
A list of useful words to use at the dentist in Spanish.
Olympic Games vocabulary in Spanish
An useful list of words related to the Olympic Games in Spanish
Spanish expressions with "pedir"
A list of Spanish idioms using the verb "pedir"
Spanish abstract nouns ending in -ía or -ia
A list of common Spanish uncountable and abstract nouns that end in -ía or -ia
Luggage and packing
Useful list of Spanish words related to packing one's suitcase
List of nouns with different meanings depending on gender in Spanish
A comprehensive list of nouns that change meaning depending on if they are masculine or feminine in Spanish
Ordinal adjectives from 20th to 100th in Spanish
A list of adjectives to express the place of a noun in an ordered group
Feria de Abril de Sevilla vocabulary in Spanish
List of useful Spanish words when going to the April fair in Seville
List of Spanish expressions using the verb pasar
A list of expressions with the Spanish verb pasar

B2: Upper Intermediate

Subordinating conjunctions in Spanish
An advance list of Spanish subordinating conjunctions
Spanish words that derive from Arabic
A list of everyday Spanish vocabulary that came from Arabic
Feminine words in Spanish that take article "el" instead "la"
A useful list of Spanish words that take the article "el"
Spanish adjectives that change meaning with "ser" vs "estar" verbs
A list of common Spanish adjectives that change their meaning depending on if they are used with "ser" or "estar"
Spanish adverbials of time.
A comprehensive list of adverbial expressions of time in Spanish.
Spanish adverbials of doubt
A comprehensive list of adverbial expressions of doubt in Spanish
Verbs with prepositions in Spanish
An advance list of verbs with prepositions in Spanish
Spanish correlative conjunctions
A useful list of Spanish conjunctions to relate one element of the sentence to another
Verbs in Spanish often using "se aspectual"
An advance list of Spanish verbs that often use "se aspectual"
Athletic vocabulary in Spanish
A list of common Spanish words related to athletics
Nouns ending in -ú,-í, -u, i (mostly masculine nouns)
Nouns ending in -ú,-í, -u, i, mostly masculine nouns and often two plurals
Spanish expressions with "mano"
A list of common Spanish idioms with the body part "hand"
Spanish expressions with "jugar"
A list of Spanish idioms using the verb "to play"
Spanish expressions with colours
A list of everyday idioms using colours in Spanish
Spanish expressions with "ya"
A list of Spanish idioms using the word "ya"
of Spanish expressions mentioning eyes: "Ojos"
Spanish idioms using the word "ojo"
Spanish expressions with "boca"
A list of useful Spanish idioms with the body part "mouth"
Spanish expressions with "echar"
A list of Spanish idioms using the verb "echar"
"Hecho" idioms: Spanish idiomatic expressions using the word "hecho"
Spanish expressions using the word "hecho" (from the verb hacer)
Spanish expressions mentioning grapes: "Uvas"
A list of useful expressions with the word "uva(s)"
Anatomical idioms: Spanish idiomatic expressions using parts of the body
Spanish expressions using parts of the body

C1: Advanced

Spanish expressions with "quedarse"
A list of the most common Spanish idioms using the verb "quedarse"
Spanish expressions with "quedar"
A list of the most common Spanish idioms using the verb "quedar"
Spanish expressions with "tocar"
A list of Spanish idioms using the verb "tocar"
Spanish expressions with "poner(se)"
A list of the most common Spanish idioms using the verb "poner(se)"
Video call vocabulary in Spanish
A list of useful words in Spanish to make a video call
"At the gas station" vocabulary in Spanish
A list of common Spanish words to use at the petrol/gas station.
Spanish expressions with "estar"
A list of Spanish idioms using the verb "to be"
Spanish verb expressions: cargar(se)
A list of expressions with Spanish verbs cargar and cargarse
Spanish expressions with "ni"
A list of common Spanish expressions using the word "ni"
Spanish expressions with "dar/darse"
A list of Spanish idioms using the verb to give
Animals expressions in Spanish
A list of useful idioms with animals
Food Idioms in Spanish
A list of useful Spanish expressions mentioning food.
Spanish expressions with "salir"
A list of the most common Spanish idioms using the verb"salir"
La quiniela en España - Spanish football pool
A list of words related to the Spanish football pools.
Geological words in Spanish relating to volcanoes
A list of vocabulary related to volcanic geology in Spanish
List of expressions using the verb tirar(se) in Spanish
A list of useful expressions with the Spanish verb tirar
List of expressions using the verb hacer(se) in Spanish
A list of useful Spanish expressions using hacer